I recently received GOSH Holographic in a swap from a very sweet girl in Scotland. Once I opened the package I realized immediately that none of my other holographic polishes are anything like it. I took it out and swatched it and found that it is truly the most amazing holographic polish I own, and then I decided that it would be a great time for a comparison!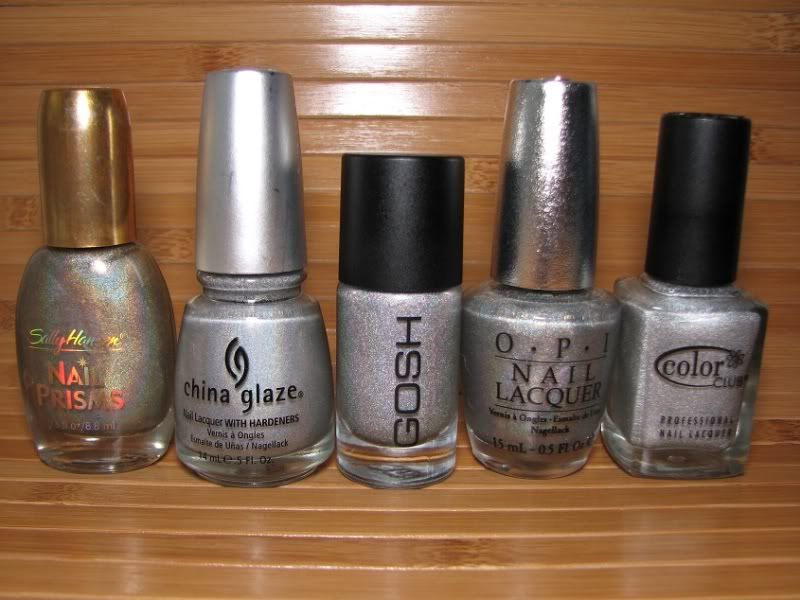 Nail Prisms Diamond, China Glaze OMG, GOSH Holographic, OPI DS Shimmer, Color Club Worth the Risque
What a lovely lineup! These are the five silver holo polishes that I own right now... and all five of them are unique. Each one has a different consistency and holo strength. Everyone should know that I am really a sucker for holos... I will pretty much buy any holographic colors that I can get my hands on.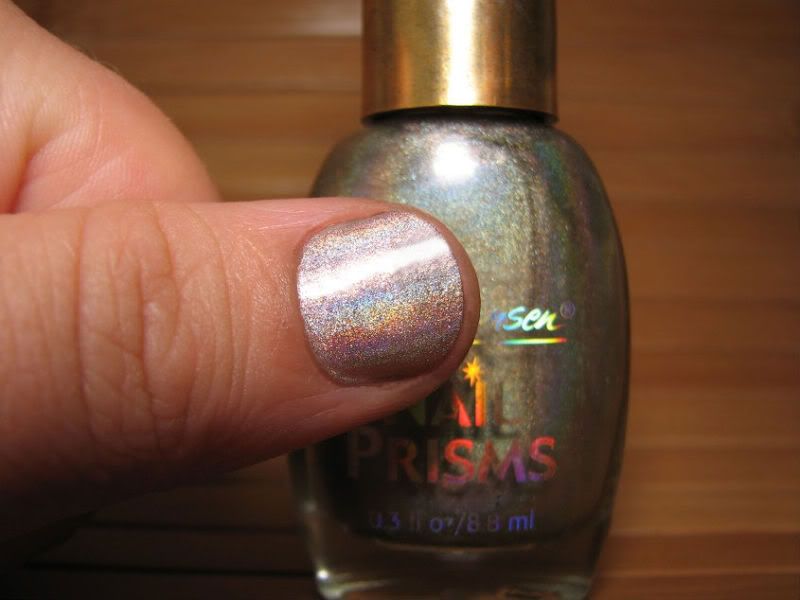 Nail Prisms Diamond, 2 coats
Nail Prisms Diamond is the oldest polish in this group. It has a very thin and watery consistency, but that really had no effect or impact on the overall application. It builds up nicely and has a really nice shimmery holo effect. I first bought this polish back in 2004 (I believe) and it was the first holographic nail polish I had ever seen, and it became my go-to mani and pedi color for a couple years. I have gone through 2 bottles of Diamond, this one is my third.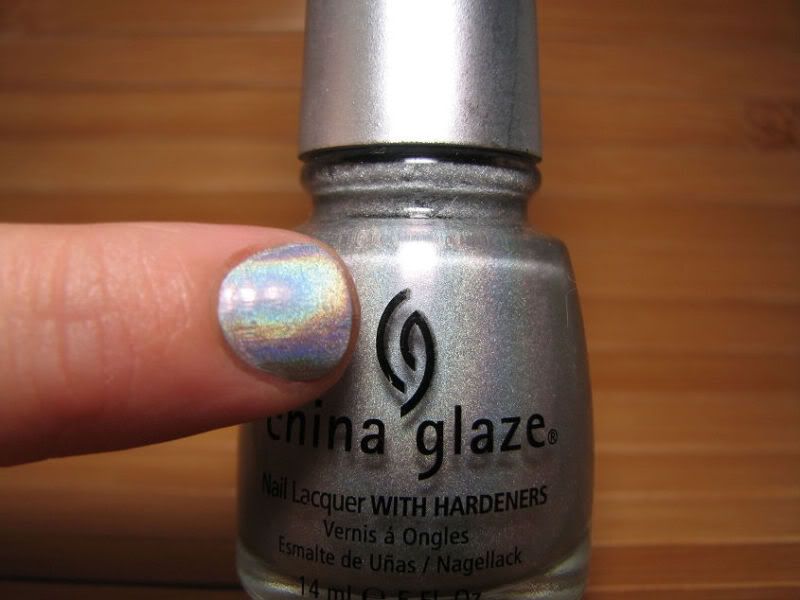 China Glaze OMG, 2 coats
The holo effect in China Glaze OMG is much more dense compared to Diamond. The particles are smaller and seem to reflect more light which creates a more intense rainbow. The application of this polish is a little tricky for me... OMG tends to drag a lot on the second coat, and I have to swipe my brush just right to avoid bald spots. The end result is amazing, though; I get many compliments when I wear this on my tips.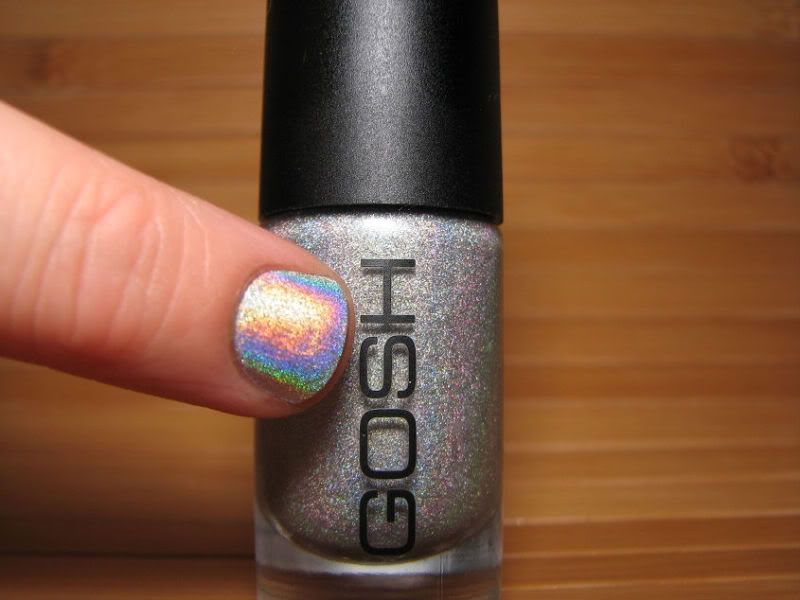 GOSH Holographic, 2 coats
This is the most amazing nail polish I own at the moment. I wasn't expecting much from looking at the bottle, but when this polish dried I felt like my eyes were gonna fall out of my head. GOSH Holographic has the most intense holo effect I have ever seen, and I have nothing in my collection that even comes close to it. The application was difficult, as I had problems with dragging. I think this can be expected of this type of nail polish. Just like OMG, the issues with the application are totally worth the result! It really is a shame that GOSH polish isn't easily obtained in the US, because this is something everyone should be able to own!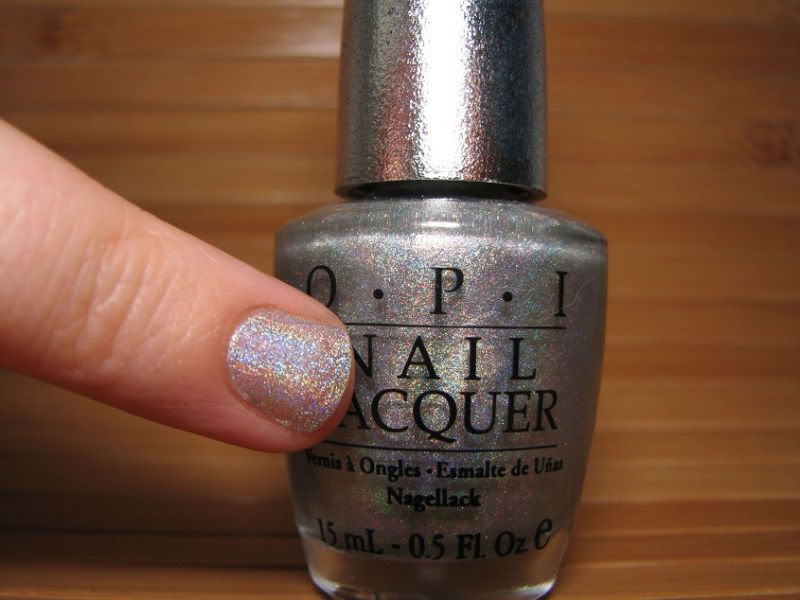 OPI DS Shimmer, 2 coats


OPI DS Shimmer was my first DS polish. I had actually found out about it while Googling "holo nail polish" a while ago when I was wondering if there were other polishes like Nail Prisms Diamond! I found it on an auction site for an incredibly good price and I couldn't pass it up. Shimmer has a wonderfully smooth application and a beautiful scattered holo effect much like Diamond (it isn't as in-your-face as OMG or GOSH Holographic). I had no problems with dragging, and it dried incredibly fast. Shimmer is a great option for layering... I love putting it over dark blue cremes!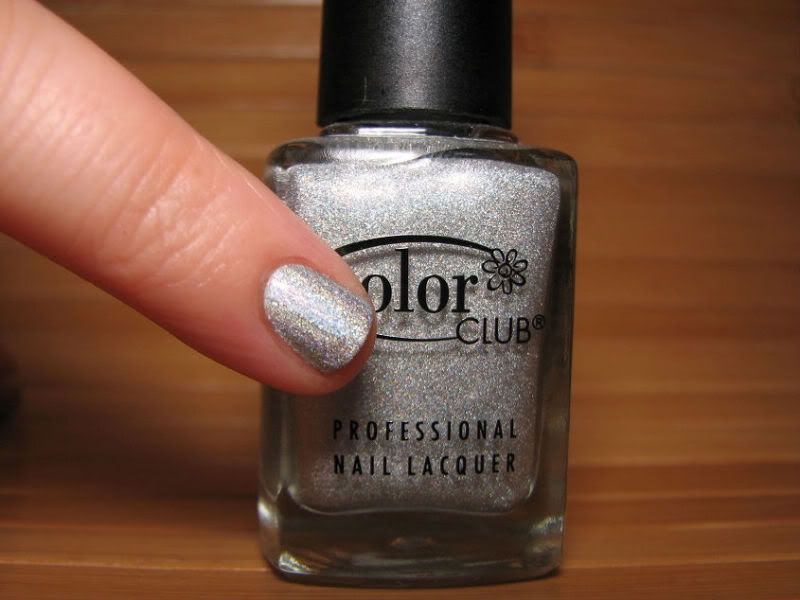 Color Club Worth the Risque, 2 coats
Color Club Worth the Risque is a great polish! While the holo effect isn't as pronounced as the other four polishes I've compared, I still really like it. The formula is great and I have never had any issues with application... it goes on smooth like buttah! I really enjoy using Worth the Risque as a Konad stamping color, especially over black. All in all this is a good holo for the money; I think I paid around $2.50 for it.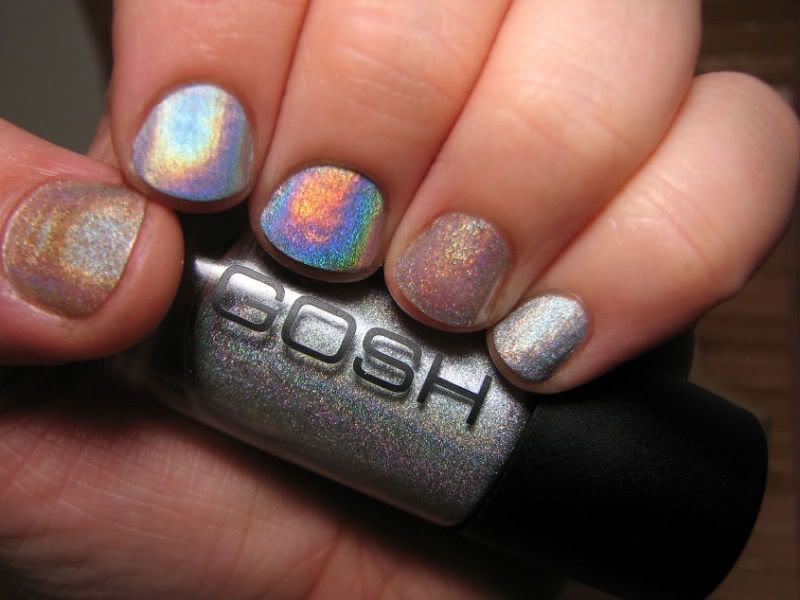 Group photo! Thumb to pinkie: Diamond, OMG, Holographic, Shimmer, Worth the Risque
I had a hard time maneuvering my hand into a position where all of my nails were visible, but I can clearly see that GOSH is the Holo Champion! Look at that baby glow! OMG is a close second!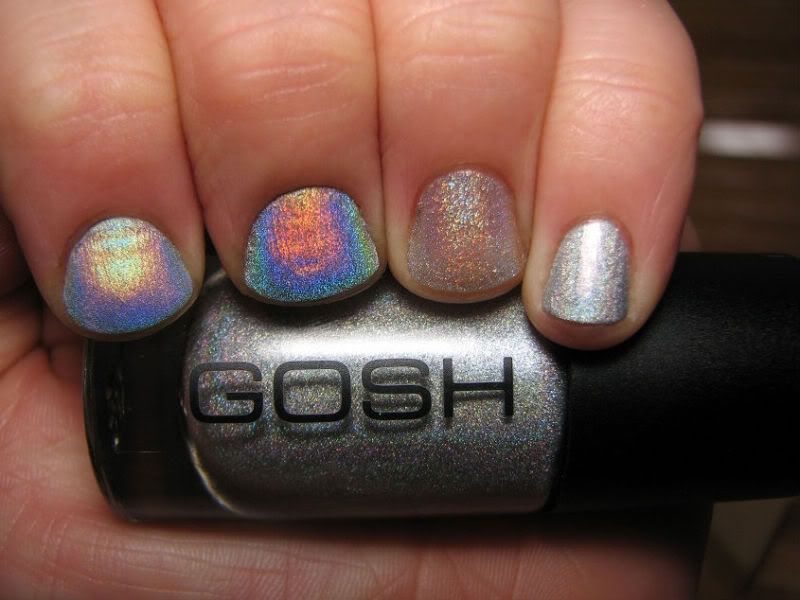 My thumb went bye-byes.
And that concludes my comparison!
What are your favorite holographic polishes?
~Carley