I chose to go green today with my manicure by wearing Going Green from Sally Hansen Xtreme Wear's spring collection. I am a big fan of the Xtreme Wear line, it has some awesome colors and I've never had a problem with the formula. It goes on smoothly and dries quickly! Instant love!
This color is very unique in my collection! I don't own any other greens that are even similar to it. Going Green has a beautiful subtle shimmer in it that looks amazing in the sun. I wish I got some shots of it in the sunlight to show it off! The shimmer matches the base color very well, so at first glance it looks like a basic creme.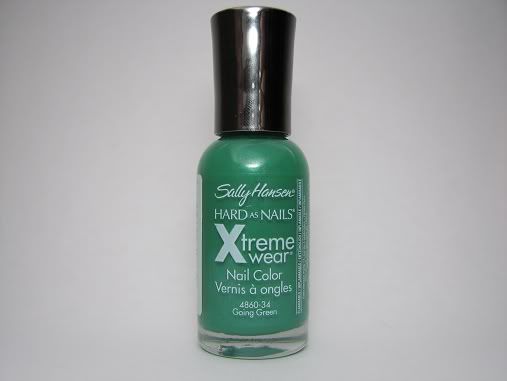 The formula is wonderful. Two coats gave me the perfect finish with no streaking or bald spots.
Curiosity got the best of me and I decided to put a coat of Nfu Oh 038 on top... I think I like it! I have never tried 038 over anything other than dark blue and black, so this is new territory for me! The flakies aren't as noticeable against the green polish.
All in all I am glad I picked this color up. The Xtreme Wear polishes are about $2.99 at my local Walgreens, so the price is right. When nail polish costs that little and comes in interesting colors I feel like I can't go wrong!
~Carley