One thing everyone should know about me... I have very short, thin nails. My nails seem to fare a lot better when I keep my hands and cuticles hydrated and happy, which I have to do multiple times a day due to my job. I work at a big box home improvement store and I am always lifting heavy things, moving product around, and just generally being very rough on my hands and nails. When I first started at my job about 3 1/2 years ago, I never EVER wore gloves or put lotion on. My cuticles were cracked and dry to the point of bleeding from all the dirt and dust that I encountered on a daily basis. I tried a lot of different products over the course of a few months until I found my holy grail of nail care items: Burt's Bees Lemon Butter Cuticle Creme.
I started using it every morning before I went to work, while I was at work, and before I went to bed at night. I saw results in about a week. My cuticles weren't as sore and cracked as they were before, and they seemed completely healed after about a month. The smell was a little off-putting to me at first, but I quickly got used to it. The creme itself is more balmy than creamy; it feels a little greasy at first but sinks in after rubbing it in. The greasiness doesn't bother me once I put my gloves on at work, the product really sinks in after that. I can't tell you how many tins of this cream I have gone through! You can see in the photo that my current tin is quite loved! It spends a lot of time getting roughed around in my apron at work.
This year I had heard a lot about Lemony Flutter from Lush. A lot of people on
Makeup Alley's Nail Care message board
had great things about it, so I decided to pick some up. It is priced fairly higher ($12.95) than the Burt's Bees cuticle treatment I normally use, but the price difference was worth it, in my opinion.
I bought this tub about 8 months ago, and I use it twice a day in conjunction with the Burt's Bees. I consider Lemony Flutter well worth the price tag, especially since the product itself is fantastic and lasts a long time! It has a lemony scent, it sinks in immediately as you apply it to your cuticles, and has great effect on other dry patches of skin (I've used it on my elbows with awesome results). Love, love, love! I actually put a bit of Lemony Flutter into a sample container I got from Lush and I keep it with me in my purse! Moisture on-the-go!
When I use hand lotion, I have a few requirements: It has to absorb quickly, smell good, and work well. I don't like thick lotion that sticks around on your hands all slimy-like. Back when I was having my cracked cuticle problem I was trying ton of different lotions. The Burt's Bees cuticle creme came with a small sample of their Shea Butter Hand Repair Creme, which I immediately tried. I have been using this lotion ever since then.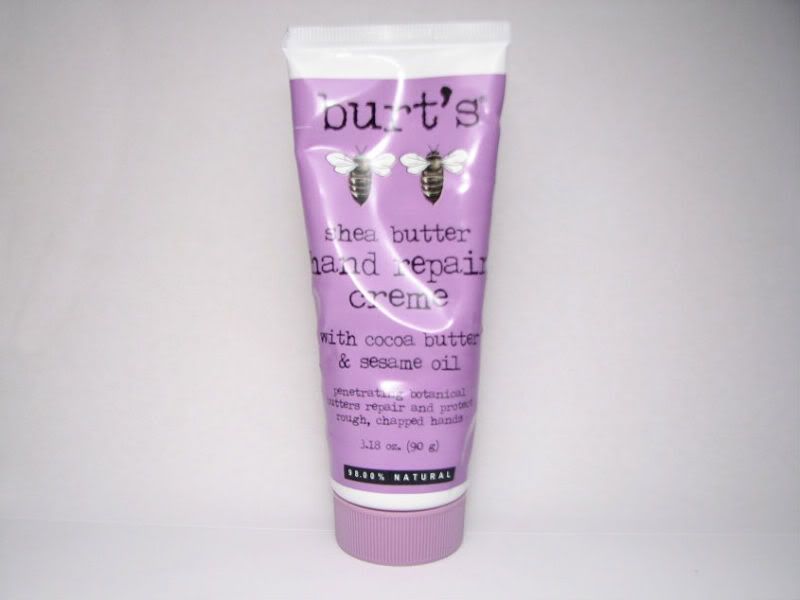 This lotion has a very strong herbal lavender scent, which is pretty refreshing. A glance at the ingredients list shows that this creme is JAM-PACKED with natural ingredients (sunflower oil, shea butter, rose water, and beeswax to name a few) and is actually labeled as "98% Natural" on the front of the tube. I like that Burt's uses a lot of natural ingredients in their products! The lotion is wonderful... it is smooth and cooling, and moisturizes wonderfully. I love how quickly it absorbs and it makes my skin feel so soft. The only downside is that when I use it at work some of my coworkers think it smells too medicinal... these same coworkers said Lemony Flutter smelled too strong, as well. I am a big fan of anything herbal or aromatherapy-related, so the scent does not translate to medicinal to me.
What are your favorite moisturizing products?
~Carley